PhD Thesis – Antonio Ridi: Generative models for time series in the context of in-home monitoring
Analysis and development of novel generative modeling approaches for data recorded as time series.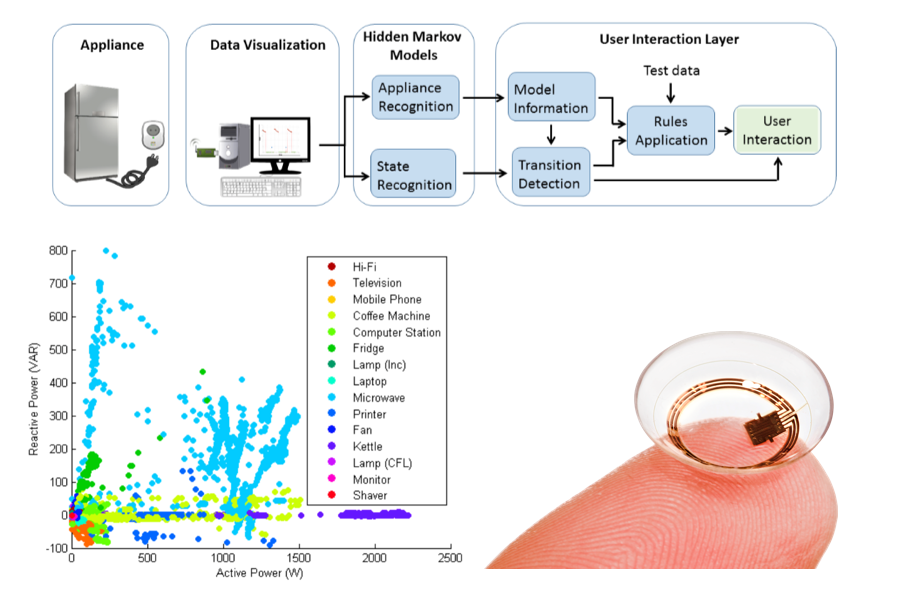 Temporal data are typically generated by natural processes that themselves may evolve or not with time going through a sequence of generative states. In this thesis, we investigate the use of generative approaches for machine learning systems applied on time series, such as Gaussian Mixture Models (GMMs) and Hidden Markov Models (HMMs). More specifically, we investigate the opportunities under which such systems are comparing advantageously against discriminative approaches such as ANNs or SVMs. For example, we show the advantages of GMMs and HMMs in situations where scalability, adaptability and distributability of the models are important criteria. This thesis has been elaborated along two real-life applications for which such criteria revealed important.
Green-Mod. This project covered an interesting task aiming at identifying appliances through their electricity consumption signatures. An important contribution is in the collection of a database of 15 models/brands of 15 different categories that allowed us to compare systematically the machine learning algorithms. For this project, the scalability and distributability of GMMs revealed important.
Sensimed Data Intelligence. This project aims at the understanding and early detection of glaucoma from Internal Ocular Pressure related time series. Here the GMMs and HMMs, thanks to their solid probability framework, offered interesting opportunities to interpret the obtained results, which is a critical criterion for medical applications.
Publications