BENEFRI 2022 Summer School
What ?
The BENEFRI workshop, on the subject of distributed systems with their applications to HPC, Big Data, simulation and AI, will take place in 2022, under the organization of the HEIA-FR (Fribourg – Sébastien Rumley)
When ?
The workshop will start on August 29th at 13h30 and will end on August 31rd, 12h00.
Where ?
Grand Hotel & Kurhaus Chemin de la Forêt 6 1986 Arolla
https://www.grandhotelkurhaus.com
To get there, there is "Car Postal" who can bring you into Arolla village (stop "Arolla, poste"). From there, there is a 5-10 min walk to the hôtel. Below a typical schedule from Sion to get there on time (with some extra time for check-in and getting settled) :


If this schedule is too early for you, two options :
There is another relation that will bring you to Arolla, poste at 14h. But then you will miss the first presentation(s)
There is a bus arriving at 12h35 at "Les Haudères". From there you might be able to find an arrangement with a participant with a car (15min ride). If this option is interesting but you know nobody, write to sebastien.rumley -at- hefr.ch

You can also come by car. Leave the highway at "Sion, Est" and follow the itinerary below. Mind that it will take you around 50min to get there…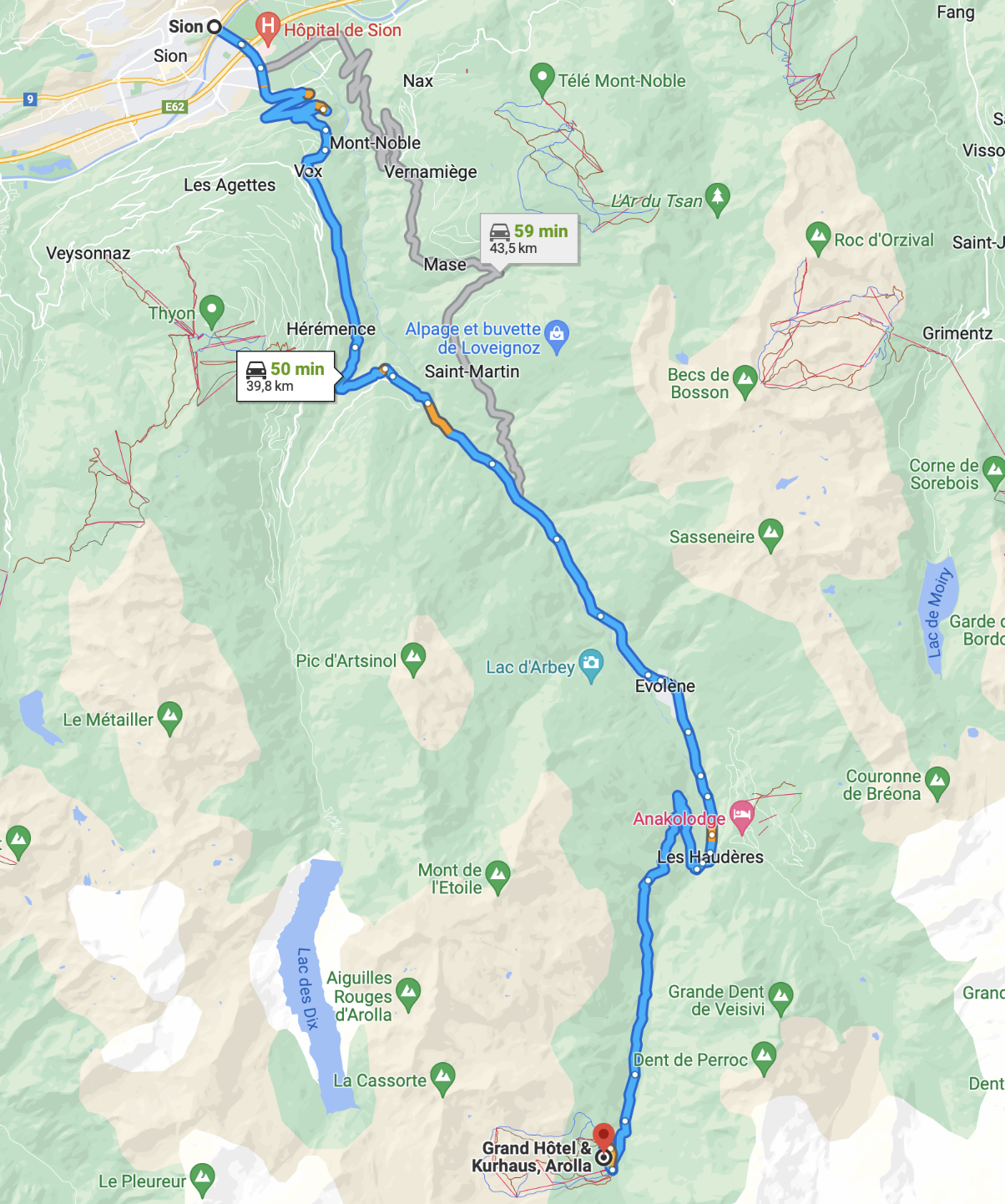 Participants
To register to the workshop (and book your accommodation), please contact Sébastien Rumley (Sebastien.rumley@hefr.ch) who will include you to a group address.
Here are the (tentative) prices for two nights, two dinners, one lunch + seminar room :
Single room : CHF 444
Shared room : CHF 314
Confirmed participants (40 to date, 17 seniors and 23 students) :
UNINE – Seniors:
Pascal Felber
Marcelo Pasin
Peter Kropf
Valerio Schiavoni
Adrian Holzer
Vladimir Macko
<new comer>
UNINE – Students:
James
Peterson
Rémy
Pasquale
Simon
Romain Claret
Panagiotis Gkikopoulos
HEIA – Seniors:
Sébastien Rumley
Jean Hennebert
Pierre Kuonen
Jean-Frédéric Wagen
Oussama Zayene
Beat Wolf
Christophe Gisler
HEIA – Students:
Yann Maret
Linda Studer
Michael Jungo
Frédéric Montet
UNIBE – Seniors:
Torsten Braun
Antonio Di Maio
UNIBE – Students:
Alisson Medeiros
Lucas Pacheco
Maria Hrabosova
Eric Samikwa
Negar Emami
Yemshid Farhat Quinones
Jesutofunmi Ajayi
Jakob Schaerer
Hexu Xing
Dimitris Xenakis
Patric Hammler
HEVS – Seniors:
HEVS – Students: